CO Close Calls
October 31, 2010 | Paramedic Notes
Teresa McCallion, EMT-B | From the The Silent Killer Issue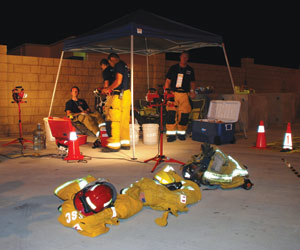 Rehab assists in not only refreshing and rehydrating your personnel, but also in detecting CO poisoning and other medical abnorm Photo A.J. Heightman

Fire departments and EMS agencies from coast to coast have first-hand accounts of patients with carbon monoxide poisoning that was successfully detected by CO monitoring.
More >
Until just a few years ago, patients who complained of vague, flu-like symptoms typical of carbon monoxide (CO) poisoning may not have been transported to a hospital. Instead, well-meaning EMTs and paramedics may have had these patients sign a release after advising them to contact their primary physician if they continued to feel ill. Without knowing that their home or hotel room was filled with toxic gas, some patients were later found dead due to lethal levels of CO.
The difference today is a non-invasive assessment tool that allows prehospital providers to monitor blood CO levels. Those found with elevated levels can be treated with oxygen or, if the levels are particularly high, hyperbaric oxygen therapy. An increasing number of emergency service agencies are using this tool as a regular part of their assessment of patients and during rehab operations on the fire ground.
Firefighters are particularly at risk of exposure to CO when fighting fires, but so are civilians who are unwittingly exposed to high CO levels. Perhaps the best evidence of the significant impact CO monitoring can have on the detection and correction of potentially lethal CO exposure comes from actual case reports.
What follows are first-hand accounts of patients with CO poisoning who might not have been detected and treated if prehospital CO monitoring was not available and utilized.
Surprising CO Source
Firefighter Dan Steaves
Durango (Colo.) Fire & Rescue
Authority
When Durango (Colo.) Fire & Rescue Authority firefighters arrived on scene at a local ski resort, smoke and flames were visible in several units of a condominium complex. By the time the fire was extinguished, three of the condo units were completely destroyed.
Firefighter Dan Steaves was part of the attack team that knocked down the fire and helped to overhaul the damaged units. In accordance with the fire department's protocols, he and his crew went to rehab after they had consumed two tanks of air. While they sipped water to rehydrate, their vital signs were taken and CO levels monitored.
Although he felt fine, Steaves was surprised to learn that his CO level was elevated.
"I didn't have any signs or symptoms [of CO poisoning] and no reason to think anything was wrong," Steaves says.
A quick check of the other two members of his crew showed that Steaves was the only firefighter with elevated levels. Curiously, no other firefighter on scene was affected.
Steaves was still concerned a few days later and checked his reading while on duty. He was stunned to see that his carboxyhemoglobin (COHb) reading remained above normal.
Durango's EMS captain suggested Steaves check his home, so the firefighters went to his apartment and learned that the source of his high CO level was his gas stove.
"As soon as we turned the oven on, we were getting 100 parts per million readings right away," he says.
If these CO levels were present at a fire scene, the firefighters would be required to wear breathing apparatus, yet Steaves was breathing toxic air every time he entered his home.
Steaves wonders what would have happened had noninvasive CO monitoring not been available to alert him and his colleagues to his CO exposure.
Vague Signs & Symptoms
Fire Chief Richard Shakerley
West Crescent (N.Y.) Fire Department
New CO-monitoring devices proved their value soon after the West Crescent (N.Y.) Fire Department placed them in service. Firefighters responded to the home of a 46-year-old man who had been to the emergency department (ED) twice in the past couple of days, seeking treatment for a constant, throbbing headache.
He wasn't experiencing dizziness, fever or visual disturbances; the only symptoms were a headache the patient rated as a 10 on a 1–10 scale and nausea without vomiting. The patient's vital signs were within the normal range, and a cursory physical and neurological exam was unremarkable.
The transporting ambulance was delayed, so one of the firefighters decided to try the CO monitoring device while completing a second set of vitals. Shockingly, the patient's SpCO reading was 40%. They evacuated the patient from the porch, placed him on oxygen by non-rebreather mask and, to protect themselves from the toxic gas, donned self-contained breathing apparatus before entering the patient's home. Inside, they got readings of nearly 2,000 parts per million near a propane-fired gas water heater.
Fire Chief Richard Shakerley says these "masked calls" are common. By the time the firefighters arrive, the family has often ventilated their home, so atmospheric CO readings in the home are within the normal range. The CO-oximetry device now allows firefighters who suspect CO poisoning to check the family in addition to the residence. If they find a problem, they can mitigate the source. "It's one of the tools we use to test a patient. It's a quicker assessment of what's really going on," Shakerly says.
The department has since purchased an additional device and incorporated CO monitoring into the department's rehab protocol.
MCI Averted
Chief Skip Kirkwood
Wake County (N.C.) EMS Division
A Wake County (N.C.) Department of Emergency Services crew was dispatched to a 3 a.m. call for a 10-year old with a headache. They were told the patient would be in a car parked along one of the area's highways. However, when they arrived, they found a family of five in a sport-utility vehicle (SUV), all suffering from headaches, nausea, vomiting, confusion and tingling skin.
To complicate matters, no one in the family spoke English. Fortunately, one of the paramedics is a native of Chile and was able to determine that the family had been living in a local motel. They woke up in the middle of the night feeling ill and left in the SUV to go for help. On the way to the hospital, they became so confused that they called 9-1-1.
Once the on-scene crew realized they had a family with CO poisoning, they requested the Raleigh Fire Department be dispatched to the residential motel where the family had been staying. There, firefighters found dangerously high CO levels and multiple guests with elevated CO readings who required treatment.
More than 50 guests were subsequently evacuated. Each patient was assessed and triaged with the assistance of the CO-oximetry device. Firefighters determined that a malfunctioning central HVAC unit had been circulating CO throughout the motel.
"You can't predict what would have happened," Kirkwood says. "But there could have been 50 dead people by morning." He credits the first-arriving crew for their quick thinking in requesting a CO-monitoring device to assess the patients for CO exposure. The device was relatively new to his department at the time and only carried on a supervisor's vehicle. Since then, they have added another unit to their specialized major incident rehabilitation truck.
Kirkwood is quick to point out that just having a tool isn't enough; you have to know when to apply it. "This crew thought about the larger implications and probably saved a number of lives," he says.
Uncovering CO Sources
Firefighter/Paramedic Dwayne Love
Aurora (Colo.) Fire Department
The Aurora (Colo.) Fire Department had been using a CO monitoring devices for less than a year when firefighter/paramedics Dwayne Love and Jim Rufer responded to a seizure call. On arrival, they found a postictal 29-year-old woman sitting in her kitchen. She says she had been watching a movie in a basement room with her boyfriend when she suffered the seizure. She also stated that she didn't feel well earlier in the week and that her two dogs had been vomiting in the house recently.
This information was enough to cause Love and Rufer to check the patient and her boyfriend for CO poisoning. The woman's SpCO was 26%. A quick check of the boyfriend revealed a reading of 30%. The levels were so high firefighters thought the unit might not be working properly. After confirming it was functioning normally, they treated and transported both patients and sent the dogs to a local veterinary hospital.
Firefighters conducted a CO inspection of the house, and identified a faulty boiler as the culprit.
Love noted that, in the past, this could have been one of those calls where the patient was merely advised to see their family physician. These dramatic saves prompted Aurora FD members to begin monitoring CO levels more frequently. "It's another tool in our arsenal to give people the best care we can provide," Love says.
Toxic SUV
Capt. Stan Plyler (retired)
Bremerton (Wash.) Fire Department
Bremerton Fire Department (BFD) Captain Stan Plyler had a positive experience with CO monitoring before the department even purchased a unit. His experience started with a three-hour road trip in his department utility rig to a regional EMS meeting. This was the first time he'd had the opportunity to take his new sport-utility vehicle on an extended drive. He went directly from his meeting to another one with a Masimo representative at a neighboring fire district, where he watched a demonstration of the company's CO monitoring device.
The representative placed the probe on each person at the meeting. Everyone else had normal readings, but Plyler's registered a moderate 7%. After some questioning, the group identified a defect in the department vehicle as the source of CO.
The department ordered a CO monitoring device soon after this incident and, while Plyler was training a few of the firefighters how to use the device, a call came in for an unconscious man on a small pleasure boat.
The patient, an older man who had been working on his boat engine, was overcome by the exhaust engine fumes. His wife found him unconscious on the boat, woke him and helped him onto the dock. When BFD crews arrived, the man was vomiting and confused. Plyler immediately monitored the patient's CO levels, which registered 45%. The patient was placed on high-flow oxygen and began to feel better.
Initially, he didn't want to go to the hospital but agreed to go after the significance of the high CO level. "[The SpCO reading] was explained to him," Plyler says. "It was nice to have that."
The patient was transported to a specialty facility and placed in a hyperbaric chamber to recover from the effects of a near-fatal CO poisoning.
A Convincing Story
Fire Chief Mark Niemeyer
Meridian (Idaho) Fire Department
Meridian (Idaho) Fire Department (MFD) Chief Mark Niemeyer says his department was the first in his state to purchase a CO-oximeter. "We had done a bunch of research before we bought [it]," he says, adding that he used that research to convince elected officials to authorize the purchase of one unit.
Just one week after receiving the device, Meridian firefighters and an ambulance crew from Ada County were called to the scene of a possible suicide. They found a deceased woman seated upright in her car, which was parked in the garage of a two-story duplex. The garage door had been sealed with tape and the woman had left a suicide note.
While the firefighters searched the woman's home for other potential patients, paramedics interviewed the man living in the other half of the duplex. He says he worked nights and slept during the day. He reported awakening earlier to the smell of gas and contacted the gas company.
A gas company employee responded and found elevated CO levels in the man's apartment. The upstairs bedroom, where the man had been sleeping, registered 750 parts per million on his monitor. He was ventilating the apartment and investigating the source of the CO when he heard the car running in the garage.
After finding the woman's body, he called 9-1-1. It was estimated that the car had been running for six hours, spewing deadly CO gasses into the man's apartment through a shared attic space and the HVAC system.
Because of his obvious exposure, the patient's CO levels were tested. His first SpCO reading was 24%. However, he reported feeling better and refused to be transported to a hospital. After explaining the risk of a reading that high, the man finally agreed to treatment. He spent two days in a hyperbaric chamber until his CO levels returned to normal.
"In my 17 years in the fire service, I can't imagine [how] many patients like him we left at home. Now we have a quantifiable number on a screen," Niemeyer says.
MFD also uses the device for firefighter rehab. In conjunction with Ada and Canyon counties, Niemeyer is developing a standardized rehab policy for the Treasure Valley, an area that includes Idaho's largest city, Boise. "CO monitoring and oximetry is part of that [program]," Niemeyer says.
Niemeyer felt so strongly about the effectiveness of the device that he requested the Idaho State board's approval of CO-oximetry as a standard of care. After a year-long study on its use, the board signed off on his additional request that the device be approved for use by BLS as well as ALS crews.
Measuring CO Exposure & Levels
Medical Director Craig Manifold, DO;
Lieutenant Carl Jackson &
Civilian Training Officer Terry Eaton
San Antonio (Texas) Fire Department
The San Antonio (Texas) Fire Department (SAFD) employs about 1,100 firefighters who protect a population of 1.5 million residents and a significant number of tourists. So when the department committed to purchasing a CO-oximeter, they went all in, buying 40–50 units just over a year ago—one for each on-duty EMS unit.
The primary reason behind the purchase was the advocacy of SAFD medical director Craig Manifold, DO. "One of the big drivers for us was the protection of our firefighters," he says. Manifold helped institute a new rehab protocol soon after his appointment as medical director. The challenge, he says, was to get the firefighters to view rehab as a formal assignment. As the unit demonstrated its usefulness, the firefighters were convinced.
The department has begun collecting data from their rehab forms to compare CO levels of firefighters, officers and engineers. They're particularly interested in the CO exposure of engineers. "On a few occasions, I have noticed that they have the highest readings," says training officer Terry Eaton. The most likely causes are exhaust from the apparatus and plume shifts. Because engineers don't use self-contained breathing apparatus, Eaton believes that they're more susceptible to CO risks.
Once firefighters began using the device, they found several additional uses for it. For example, they determined that it works well as a pulse oximeter for pediatric patients—even better than a standard monitor, Eaton says. In addition, it has identified a few children who had CO poisoning that the firefighters didn't even suspect.
Not long ago, a crew giving breathing treatment to a sick infant used the device on the lethargic child. Not only did the device measure the oxygen saturation of the patient's blood, it indicated that the child had slightly elevated levels of CO. A quick check of the rest of the family determined everyone else had normal CO levels, with the exception of one family member who was a smoker.
Lieutenant Carl Jackson says the device not only indicates exposure but also the severity of exposure. "It's been a great screening tool for our own [personnel] and our patients," he says.
Conclusion
From firefighters at a fire scene, to patients being poisoned in their own homes, there has been a need to measure and quantify CO levels. With the use of this new assessment tool for CO and oxygen saturation in the hands of prehospital providers, that job has become easier and the results have been impressive. Thanks to this new monitoring technology, the days of masked vital signs are over.
Disclosure: The author has reported no conflicts of interest with the sponsors of this supplement.
This article originally appeared in the October 2010 JEMS supplement "The Silent Killer" as "CO Close Calls: Case studies of almost-undetected exposures."

View the original article here